Moderators: GlamDude, jim_test, The Ghost of Case
Catbox Archaeologist

Posts: 2231
Joined: Wed Dec 19, 2012 1:59 am
Location: Herts, UK
Contact:
We just had to make our final trip to the vet with Tamba. She was diagnosed with lymphoma a couple of weeks ago and didn't quite make the three or four months the vet originally predicted. She came to us at just under a month old and has made it to 16yrs, but she was the one we all thought would go on forever. Always the first to jump on your lap before you had a chance to settle, she will be greatly missed.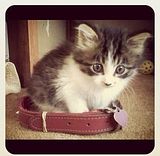 ---
Catbox Archaeologist

Posts: 2515
Joined: Mon Dec 31, 2012 4:47 pm
Location: Hertfordshire, UK
Contact:
Hugs to you all, inc little Amber. Very sad for you.
I like pigs. Dogs look up to us. Cats look down on us. Pigs treat us as equals. -- Winston Churchill
---
Lap Warmer

Posts: 264
Joined: Sun Jan 20, 2013 1:45 am
Location: UK
Contact:
:-( I'm so sorry

RIP Tamba

((((HB))))
---
---
Who is online
Users browsing this forum: No registered users and 2 guests