Moderators: GlamDude, jim_test, The Ghost of Case
Catbox Archaeologist

Posts: 2231
Joined: Wed Dec 19, 2012 1:59 am
Location: Herts, UK
Contact:
What is it with cats claiming things as their own, lol. As Olive shows in these pics.
You do not have the required permissions to view the files attached to this post.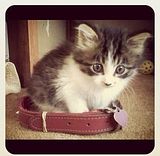 ---
Lap Warmer

Posts: 273
Joined: Sun Dec 30, 2012 6:33 am
Location: Liverpool, UK
Contact:
---
Attack Cat

Posts: 428
Joined: Thu Dec 20, 2012 6:31 pm
Contact:
Was there ever any doubt?
Here we are, trapped in the amber of the moment. There is no why.
~Kurt Vonnegut Jr.
---
---
Who is online
Users browsing this forum: No registered users and 1 guest