Moderators: GlamDude, jim_test, The Ghost of Case
One-pawed Typist

Posts: 11
Joined: Wed Jan 30, 2013 4:02 pm
Location: East Yorkshire
Contact:
---
Catbox Archaeologist

Posts: 2231
Joined: Wed Dec 19, 2012 1:59 am
Location: Herts, UK
Contact:
What a cutie, glad they could do something for her.

We had a kitten at the rescue centre who was born to an over bred cat that was 16yrs old. Oliver had no movement in his back legs at all but we had to give him a few months to find out for sure. He was sadly put to sleep at only 5mths old as it was a case of his whole back end not working, not just his legs.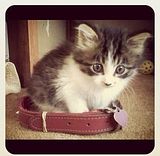 ---
---
Who is online
Users browsing this forum: No registered users and 2 guests